Long, Stewart, Covert Win Gold as Moniteau Girls Have Strong Showing
Saturday, May 20, 2023 @
12:05 AM
BROOKVILLE, Pa. (EYT/D9) – As Logan Campbell and Bella Hernandez frantically swapped out spikes from Rylee Long's cleats, Katelyn Reott was helping to ice down Long's aching right shin.
It was frantic.
It was hurried.
It was all to get Long quickly prepared for the triple jump at the District 9 Class 2A Track and Field Championships at Brookville High School on Friday evening after running the 4×100 relay.
The Moniteau senior had big aspirations in the triple, and she needed a little help from her "pit crew."
(Pictured above, Moniteau's Rylee Long)
It worked. Long jumped 35 feet, 8¼ inches to edge Laiyla Russell of Cranberry for the gold.
"All my spikes were dull and my right shin was really bothering me," Long said. "I don't know how I jumped like that because I was only jumping 33s earlier. I just pulled it out in the finals because I didn't want this to be the last time I ever did the triple jump. That's what kind of motivated me."
Long has struggled with shin splints for years. She has been able to manage the discomfort to break through this season in the triple jump.
She beat Russell at the Oil City Invitational recently with a school-record leap of 36 feet, 11½ inches. She's been consistently in the mid-35s since after being stuck in the high 34s for what seemed to her like an eternity.
It couldn't have come at a better time for Long, who will go to the PIAA Track and Field Championships next weekend in Shippensburg in two events.
She teamed with Reott, Allie Pry, and Jenna Zendron — who was battling her own leg issues on Friday — to place second in the 4×100.
"The triple was my main goal today," Long said. "I really wanted to win or go to states in the 4×1, but the triple was my main event because it just always has been. When I first started the triple jump today, my leg was hurting really bad. I was worried. I'm just glad I was able to battle through it."
It was a big day overall for the Moniteau girls, who came home with three champions.
Autumn Stewart won the shot put with a throw of 36 feet, ¾ inches. It was her personal best throw during the outdoor season.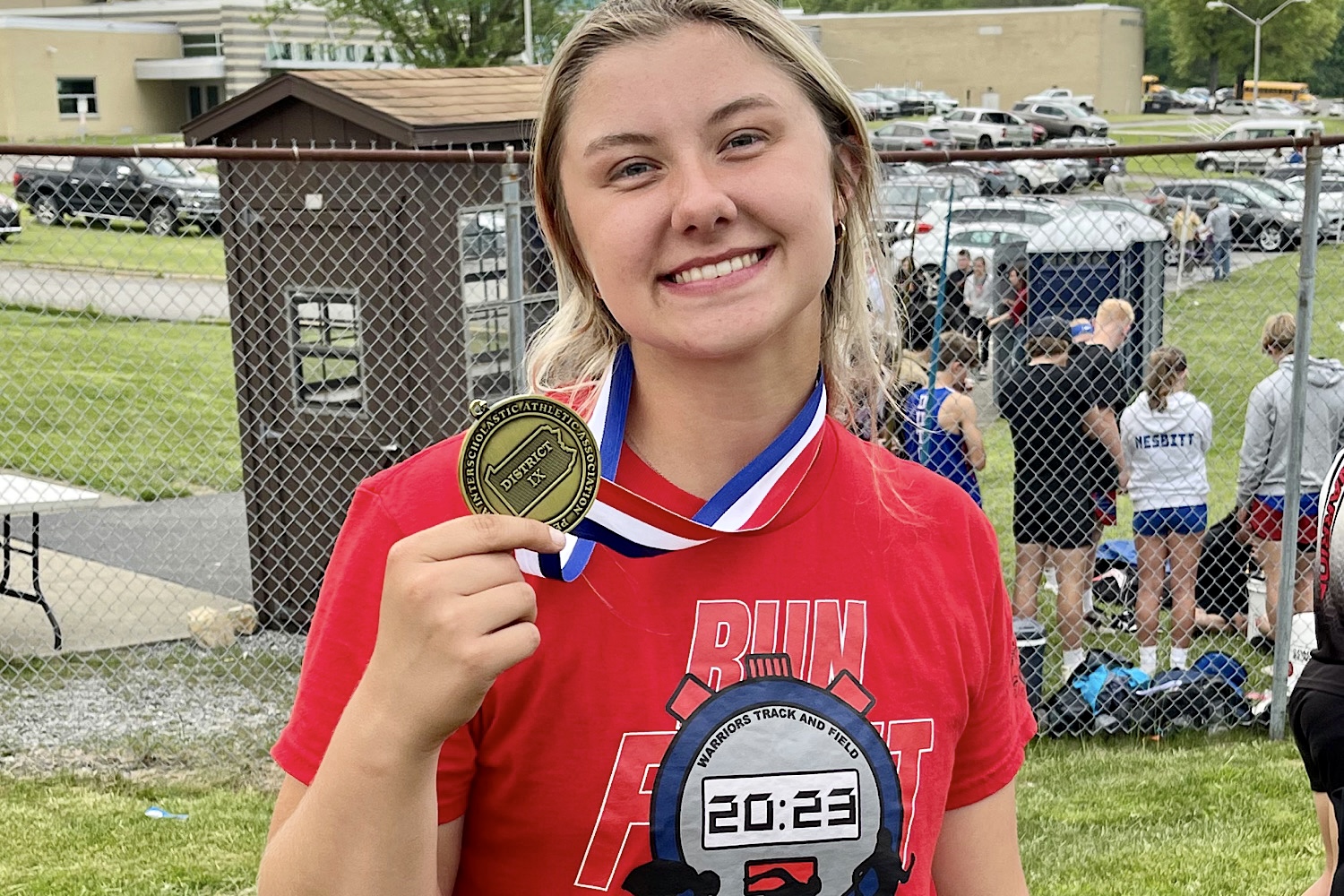 The senior came in seeded third behind Elk County Catholic's Tori Newton and North Clarion's Brenna Armstrong.
"It felt amazing," Stewart said. "Honestly, it's a surreal feeling because you never go in expecting that you're gonna win. You just go in wanting to win, so whenever you actually do it, it was crazy. When that final girl threw before me and I knew that I was going to be the champion, it was like a wave came over me and I was like, 'Oh my gosh, I actually did it.'"
Stewart's goal was to qualify for the state meet. She's accomplished that.
"I'm just going for the experience, honestly," Stewart said. "There are some very, very talented shot put girls throwing like 48 and even in the 50s in the state. It would be awesome if I could get there, but I'm just going to be grateful for the opportunity."
Emma Covert also won a gold for the Warriors, throwing 112 feet, 5 inches to easily beat the field in the discus.
Ava Wahlers of Coudersport was second at 101-9.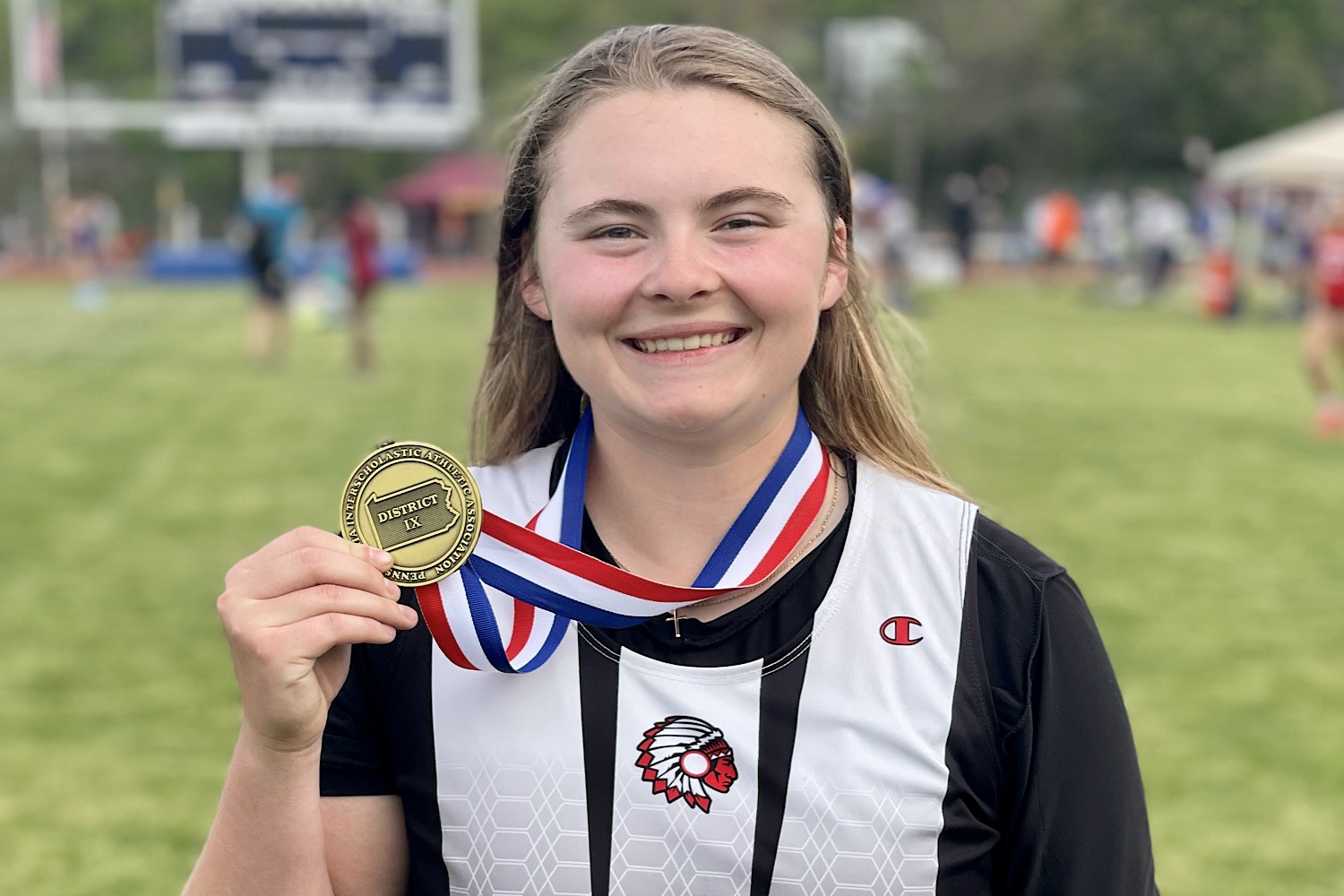 (Emma Covert)
"I was aiming for 113 because that's the state qualifying mark," Covert said. "But the top two in double-A go anyway."
Her winning throw came on her final one of the day.
"I was just praying to God to get a good throw out there and He came through for me," Covert said, smiling.
Covert has had a phenomenal spring.
She's also turned in an eye-popping season on the softball diamond, where she is currently tied for the school record in home runs with 11. She has helped the Warriors, both as a slugger and a pitcher, snag the second seed in the Class 2A playoffs, which they open Monday with a home game against Brookville.
"It doesn't really seem real sometimes," Covert said.
The Moniteau girls had a good medal haul.
Zendron, who scratched from the 400 where she was seeded second, was also third in the 200-meter dash and sixth in the 100-meter dash; Camilla Ryan was fourth in the pole vault, Long was fifth in the high jump and Ciona Deprano was third in the long jump and sixth in the triple jump.
Moniteau finished second as a team with 58.5 points. Elk County Catholic captured the title with 62 points.
"I'm proud of us," Covert said.
Copyright © 2023 EYT Media Group, Inc. All rights reserved. Any copying, redistribution or retransmission of the contents of this service without the express written consent of EYT Media Group, Inc. is expressly prohibited.