RECORD-BREAKERS: Union/A-C Valley's Hayden Smith and Evie Bliss, Coudersport's Kevin Sherry Turn in Big Performances
Saturday, May 20, 2023 @
12:05 AM
BROOKVILLE, Pa. (EYT/D9) — For Hayden Smith these days, it's all about consistency.
Namely, being consistently great.
(Pictured above, Hayden Smith clears the bar in the high jump on Friday/photo by Matt Lerch.)
The Union/A-C Valley junior was so again on a damp early Friday afternoon at Brookville High School, clearing 6 feet, 8¼ inches in the high jump to win the gold and set a meet record at the District 9 Class 2A Track and Field Championships.
Smith didn't miss until he had reached that 6-8¼ mark.
"Just as long as I can stay consistent at those higher heights, I'm satisfied," Smith said. "I felt good coming in and I was just treating it like any other meet."
It's the third consecutive title for Smith in the high jump. The defending PIAA Class 2A champion in the event is now shifting his focus to the winning another state gold and then seeing what he can do on the national stage in June and July in Oregon and Iowa.
That number is always in the back of his mind, though.
Seven feet.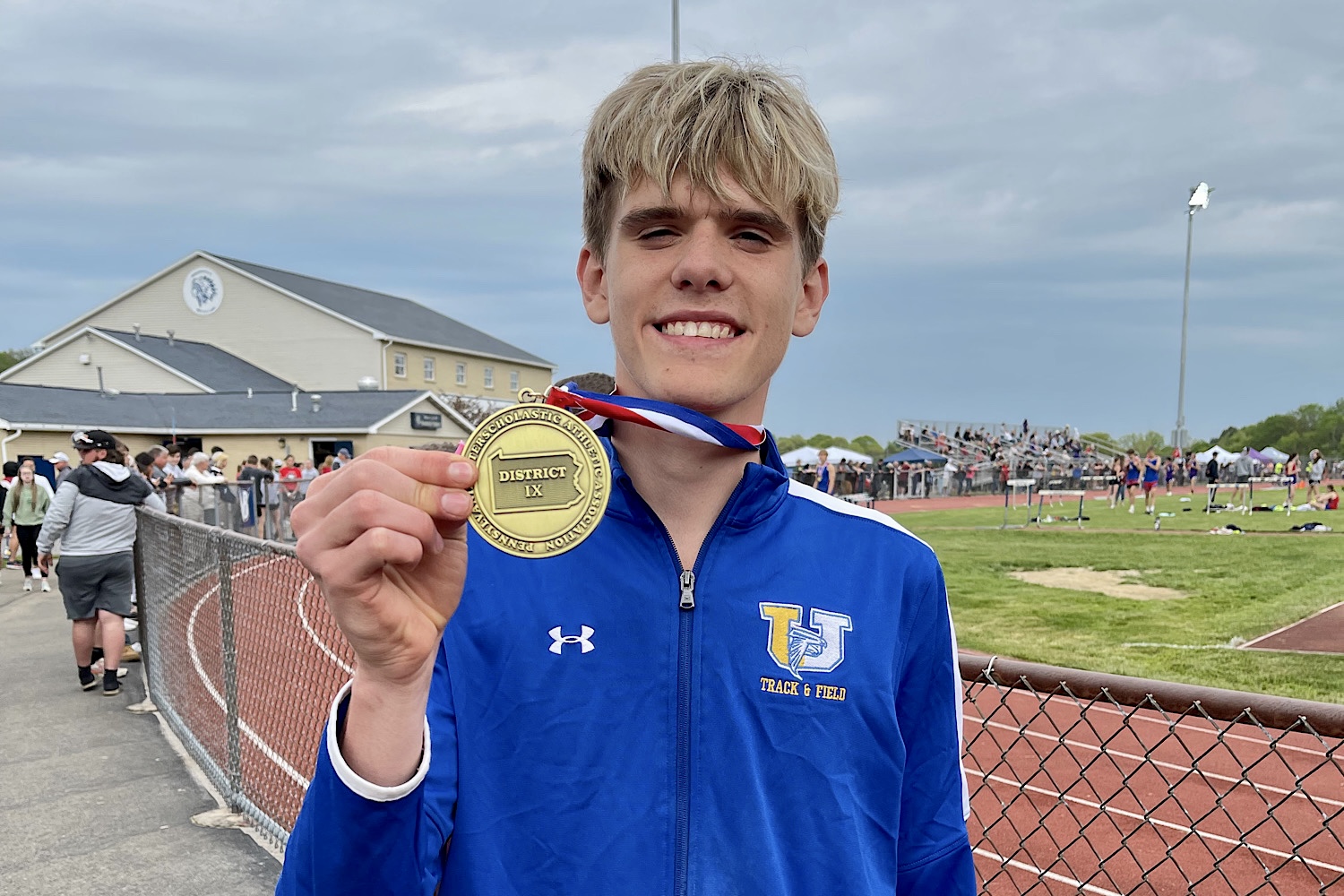 (Hayden Smith)
"Yes, seven feet would be really nice," Smith said, smiling.
Smith was just one of several record-breakers at the championships.
His teammate, Evie Bliss, broke the meet and her own school record in the javelin with a toss of 155 feet, 9 inches.
Bliss knew that throw was a good one; she never felt it leave her hand.
"It flew really nice," she said. "I got it really high and then when it landed I was like, 'Oh, wow. That's a really good throw.'"
Bliss didn't even win the District 9 title last year, placing second.

(Evie Bliss)
Then she shocked the field at the state meet, placing second there.
Since her fortunes have risen precipitously.
"This year I was coming back with something to prove," Bliss said. "I don't want to count my chickens before they hatch, but I want to throw big at states."
It was a big overall day for Union/A-C Valley, which turned in a number of big performances.
Skylar Roxbury won the 110-meter hurdles with a time of 15.62 seconds. Landon Chalmers won the shot put (52-6) and was second in the discus (155-11). Redbank Valley's Cam Wagner was first in the discus (165-1) and second in the shot (50-8.5).
The 4×400 relay team of Logan Skibinski, Aiden Fox, J.P. Blauser and Sam Morganti was second behind Brookville to punch their ticket to the state meet.
Daniella Farkas won the 300-meter hurdles.
The Union/A-C Valley boys finished third a a team.
Kevin Sherry of Coudersport also put his name in the record-book in the 1,600-meter run with a time of 4 minutes, 23.28 seconds. In all, he won two individual golds, also claiming the 3,200 (time of 9:30.89).
Copyright © 2023 EYT Media Group, Inc. All rights reserved. Any copying, redistribution or retransmission of the contents of this service without the express written consent of EYT Media Group, Inc. is expressly prohibited.