BLISSFUL ASCENT: Things Are Much Different for Union/A-C Valley's Evie Bliss This Year Heading Into State Meet in the Javelin
Wednesday, May 24, 2023 @
10:05 PM
RIMERSBURG, Pa. (EYT/D9) — Just 12 months ago, Evie Bliss was a district runner-up.
Just another javelin thrower in a sea of them in Class 2A at the PIAA Track and Field Championships. Nothing special. Nothing to indicate what was about to come.
Her first throw on a cloudy day at Shippensburg University traveled just 67 feet.
Then something astonishing happened.
(Pictured above, Evie Bliss after taking the silver in the javelin at the state meet last May)
Everything clicked for Bliss. She rocketed from ninth to second with a heave of 140-11 to earn a silver medal at the state competition.
Now a year later, the Union senior and thrower for the Union/A-C Valley girls track and field team is entering this PIAA championship meet with the best throw in the state in any class at 155-9.

Redbank Valley, Keystone, and Union/A-C Valley sports coverage on Explore and D9Sports.com is brought to you by Heeter Lumber.
"A lot can happen in a year," Bliss said, laughing. "Some days it doesn't feel real to me. I can't hardly believe it. I mean, I've improved so much since this time last year. It's really been quite a journey."
Bliss hopes that the high school odyssey reaches a final destination at the top of the podium on Friday afternoon.
Bliss is peaking at the right time.
She has been dialing up bigger and bigger throws in May, culminating with her 155-9 at the District 9 championships last week.
Perhaps more encouraging was the fact that Bliss was very consistent, hitting the 140s each time she let it fly.
Bliss, who will throw at Bucknell University next year, said she isn't feeling any more pressure than she usually feels for any meet.
"This is fun. This is what I love to do," Bliss said. "I have a scholarship to throw and if I completely failed, if I throw 67 feet, that's not gonna change. I don't feel like there's any more pressure than there was last year."
Pressure isn't foreign to Bliss.
She has a lot of experience performing well when it counts the most.
Bliss found herself under fire frequently as a standout swimmer for both Union as an independent and in YMCA competitions. For a time, in fact, she was certain her athletic future would be spent in water, not on land.
Those high-stakes swim meets have prepared her for the magnitude of the state track and field meet at Shippensburg University.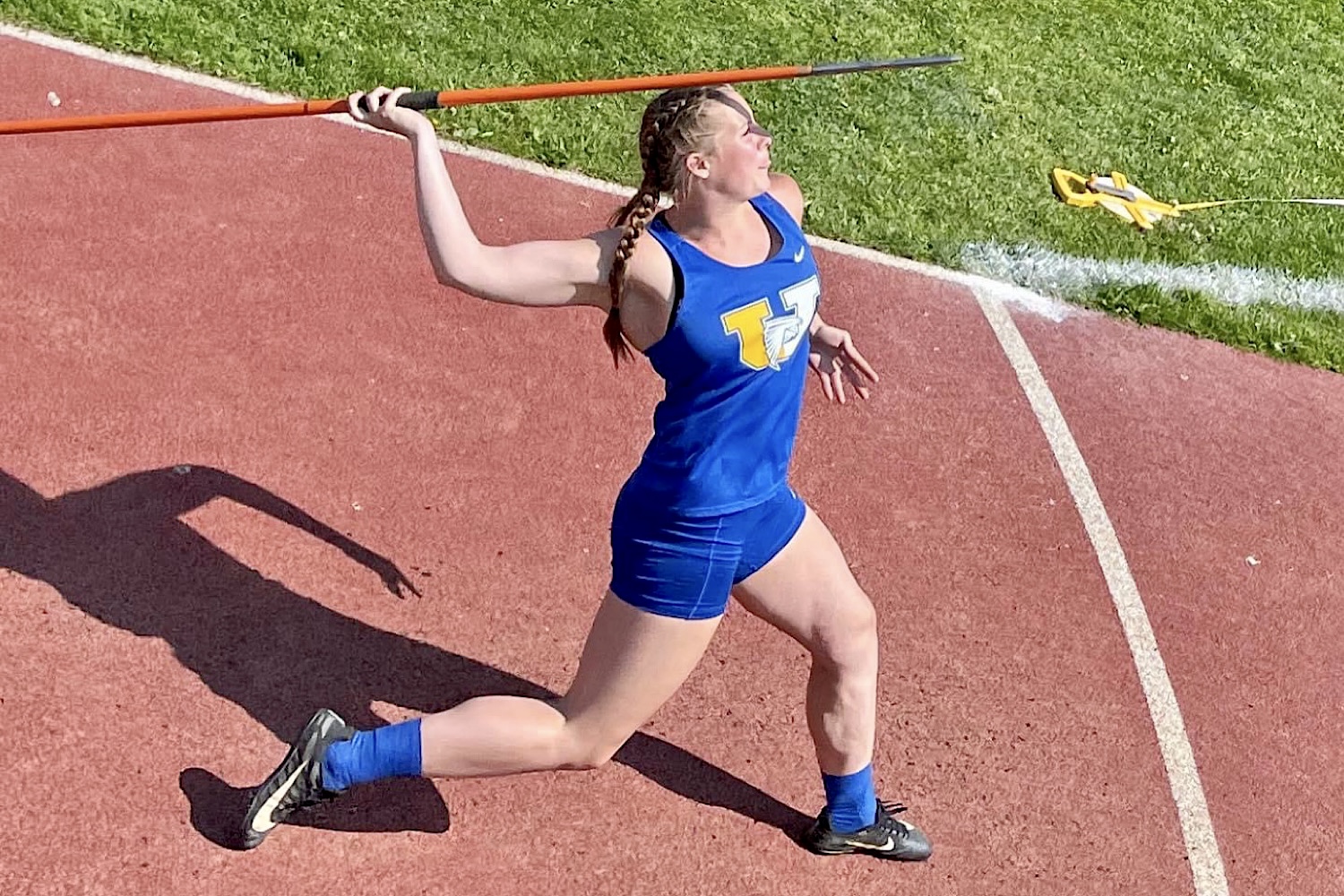 "I do the same thing I do for big swim meets," Bliss said. "I'll sit down for like 15, 20 minutes to just quietly visualize everything I want to do and everything that I need to do to throw at states in my head before I get there.
"It helps a lot with the nerves," she added. "I know how to tune out everything and just focus on myself and keep my nerves at bay in big meets like that. I've done that for a long time."
She certainly hasn't shied away from testing her mettle this season.
Bliss threw at the prestigious Penn Relays and placed fourth. She also entered the Butler Invitational, throwing against some of the best Class 3A javelin competitors on this side of the state, and won.
No matter what happens on Friday, Bliss has more even bigger meets in her immediate future.
She plans on competing in the USATF National Junior Olympic Track and Field Championships in Oregon in July.
"There's still so much I can improve on," Bliss said. "So many things I can still do to get better."

Redbank Valley, Keystone, and Union/A-C Valley sports coverage on Explore and D9Sports.com is brought to you by Heeter Lumber.
Copyright © 2023 EYT Media Group, Inc. All rights reserved. Any copying, redistribution or retransmission of the contents of this service without the express written consent of EYT Media Group, Inc. is expressly prohibited.