EMOTIONAL MAELSTROM: Clarion-Limestone's Hummell Places Fifth, DCC's Grieneisen Seventh in Javelin
Friday, May 26, 2023 @
12:05 PM
SHIPPENSBURG, Pa. (EYT/D9) — Ryan Hummell rolled the fifth-place medal around in his fingers, peered down at it and cracked a tepid smile.
For Hummell, a Clarion-Limestone senior, it was a bittersweet accomplishment in the javelin at the PIAA Track and Field Championships on a sun-splashed Friday morning.
(Pictured above, Clarion-Limestone senior Ryan Hummell)
"I'm still happy to be here. It's still cool — some people don't even get here," Hummell said, shrugging his shoulders. "I did what I could, but I wanted to do more."
Hummell threw 184 feet, 8 inches on his first throw of the day, but couldn't surpass it on his other five throws. Last year he finished fourth with a 166-7. That distance wouldn't have even earned him medal this year.
Clarion-Limestone Area High School sports coverage on Explore and D9Sports.com is brought to you by Redbank Chevrolet and DuBrook.
The Class 2A field was much deeper and stronger this time around.
Tyler Arnold of Southern Columbia won with a mark of 205-4.
"I thought I had way more in me," Hummell said. "I just kept making stupid little mistakes and it cost me."
Just getting to this point was an accomplishment for Hummell, who tore the ACL in his left knee before the football season at Central Clarion.
Most would have opted for surgery and waved goodbye to their senior seasons.
Not Hummell.
He elected to rehab the knee to save his year.
It worked.
Hummell was a standout at linebacker for the Wildcats, leading the team in tackles and helping Central Clarion to a District 9 championship.
Hummell thought his knee issues were well behind him entering the track and field season. But he discovered he was mistaken.
The knee hampered him — mentally, not physically.
He was holding back. Hesitant. Skittish about re-injuring the knee when he planted to throw.
Finally, he overcame those fears.
Two weeks ago he decided to let it rip and threw a school-record 194-6 at the Redbank Valley Invitational.
He won the District 9 championship with an effort of 177-5 last Friday.
Hummell had his sights set on a gold at the state meet, but fell just short.
"I was happy to get on the podium and medal," Hummell said. "I just wish I could have placed higher."
There were no mixed emotions for DuBois Central Catholic senior Aiden Grieneisen.
Just all joy.
Grieneisen placed seventh in the javelin with a career-best and school record throw of 176 feet.
Last year at this time, Grieneisen had never even picked up a javelin before.
He was talked into joining the track and field team by close friend Chloe Benden, who hounded him to give the sport a try until he finally relented.
Turned out to be a good decision.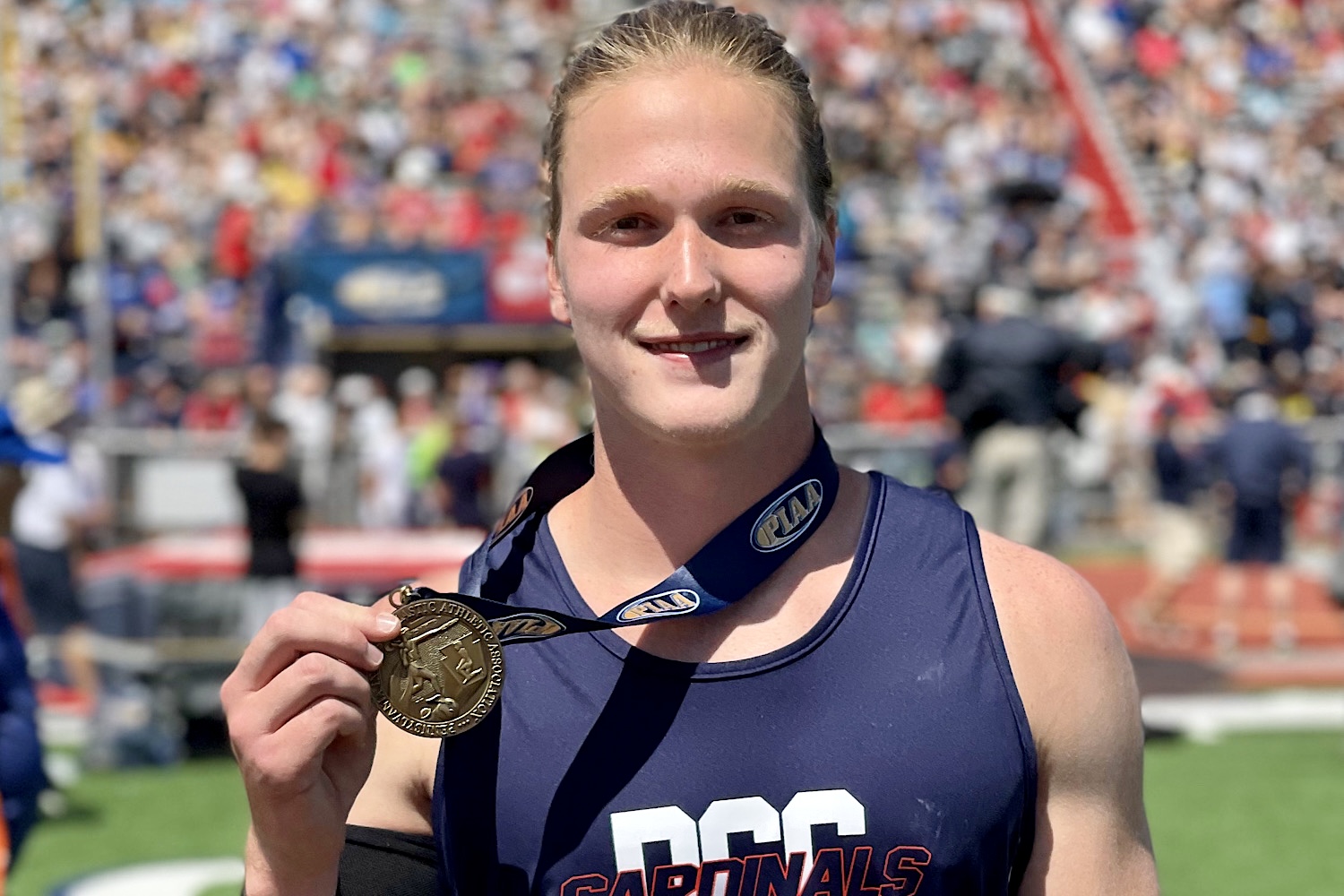 (Aiden Grieneisen)
"Even a few months ago (I never picked up a javelin)," Grieneisen said. "It's been fun. I've enjoyed it."
Grieneisen improved rapidly throughout the season.
In mid-April, he snapped the DCC school record that had stood for five decades in the event with a throw of 158-4.
A week later, he hit 164-7.
His 176 on Friday puts him firmly in the record book.
"I knew I had it me," Grieneisen said. "I started seeing progress. I started out the year at 120 and progressively got it up there."
Grieneisen figured he would have to throw in the 170s to place.
He figured right.
His 176 came on his fifth attempt and moved him to the podium.
"I just pictured it as any other meet," said Grieneisen, who was also a standout defensive lineman for the Brockway football team. "I just pictured it as any other day."
But it wasn't for Grieneisen, who's smile beamed on Friday with a medal glistening in the sun.
"I got it done," he said.
Clarion-Limestone Area High School sports coverage on Explore and D9Sports.com is brought to you by Redbank Chevrolet and DuBrook.

Copyright © 2023 EYT Media Group, Inc. All rights reserved. Any copying, redistribution or retransmission of the contents of this service without the express written consent of EYT Media Group, Inc. is expressly prohibited.