PURE BLISS: Union/A-C Valley's Evie Bliss Wins State Title in Javelin With State Record Throw of 170 Feet, 2 Inches
Friday, May 26, 2023 @
03:05 PM
SHIPPENSBURG, Pa. (EYT/D9) — As the public address announcer's voice boomed, reading off Evie Bliss' record-setting distance in the javelin of 170 feet, 2 inches, Laurel's Regan Atkins grinned.
"That's insane," she mouthed.
Bliss stood proudly high above Atkins and rest of the Class 2A javelin throwers on the podium, a gold medal around her neck and a state record in her back pocket.
It was the pinnacle for the Union/A-C Valley senior, who just one year ago threw 67 feet on her first attempt at the PIAA Track and Field Championships.
This year, her first throw soared more than a 100 feet farther to the record on Friday afternoon at Shippensburg University.
(Pictured above, Union/A-C Valley's Evie Bliss smiles atop the podium after winning the javelin with a state-record throw of 170-2)
"I mean, I feel like a completely different person," Bliss said, smile beaming. "I've said that before.
"As soon as it left my hand, I was like, 'Oh, wow,'" Bliss added. "Then I looked up and it still hadn't landed yet."

Redbank Valley, Keystone, and Union/A-C Valley sports coverage on Explore and D9Sports.com is brought to you by Heeter Lumber.
When it did, the crowd oohed.
The previous PIAA mark was 167-2, set by Fawn Miller of Lakeview in 2008.
"I didn't know it was 170, but I knew it was a good throw because it felt good," Bliss said. "Everything hit and clicked right. I think after the first throw, I kind of sort of sat back and was like, 'Holy crap.' Last year I had a 67-foot first throw. This is a change for sure."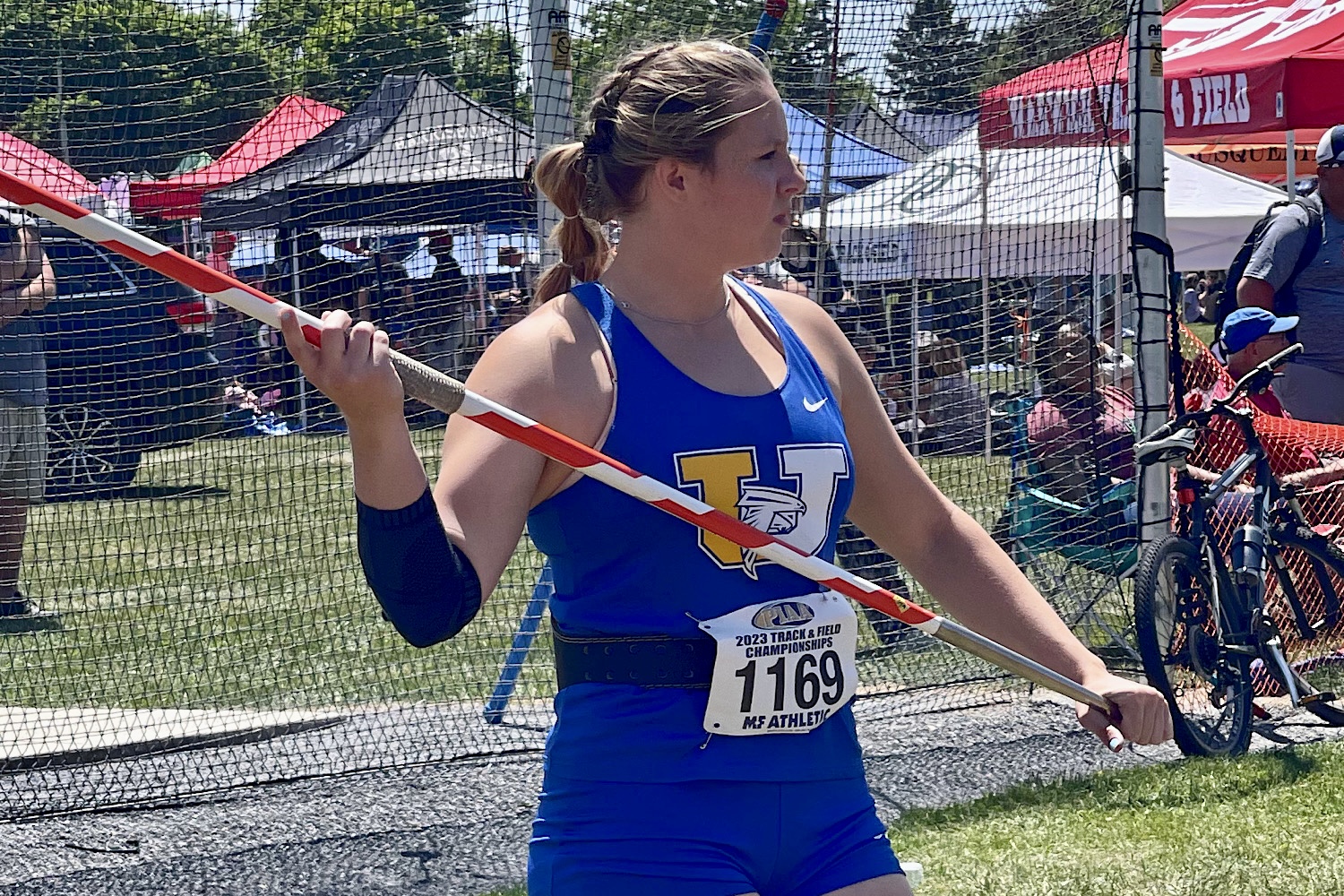 (Evie Bliss gets set to throw the javelin)
Bliss' second throw was 161-8, which would have also easily won the state title.
Sophia Mazzoni was second with a mark of 143-6.
Redbank Valley's Alivia Huffman was eighth at 127-1. Punxsutawney's Mary Grusky was ninth at 124-9.
Bliss was unaware she had set the PIAA Class 2A record until after the preliminary round. Her main goal coming in was to beat her personal best, which happened last week at the District 9 championships when she hit 155-9.
"I mean, it's just incredible," Bliss said.
So, too, has her rise been in the event.
Just 12 months ago, Bliss entered the state meet with a throw of 128 feet. She barely made the finals, but then uncorked a heave of 140-11 to place second.
This fall, she began working with Ryan Bell, a throwing coach at Youngstown State University.
They worked to refine her mechanics, meeting every weekend throughout February.
"He has made me a completely new thrower," Bliss said. "He's a big reason for a lot of my success. We have worked so hard on form and positioning and making sure I hit the right arm slot and footwork."
Bliss will throw next year at Bucknell University.
Bliss, a Union senior, didn't have a lot of time to celebrate her win in Shippensburg. She had to get on the road back to Rimersburg for her high school graduation.
A hectic — and unforgettable — day.
"Oh my gosh, I'm on top of the world," Bliss said. "It's an incredible feeling."

Redbank Valley, Keystone, and Union/A-C Valley sports coverage on Explore and D9Sports.com is brought to you by Heeter Lumber.
Copyright © 2023 EYT Media Group, Inc. All rights reserved. Any copying, redistribution or retransmission of the contents of this service without the express written consent of EYT Media Group, Inc. is expressly prohibited.