Redbank Valley Avenges Loss to Johnsonburg Last Year in D9 Title Game With Semifinal Win; Metcalfe Tosses Three-Hit Shutout for Karns City
Friday, May 26, 2023 @
12:05 AM
DUBOIS, Pa. (EYT/D9) — The Redbank Valley baseball team carried that sting with them for a year.
The Bulldogs seethed with the memory of a 9-5 loss to Johnsonburg last season in the District 9 Class 2A championship game.
Not long after the final pitch, a goal was set.
Exact revenge.
(Pictured above, Ty Carrier delivers a pitch last season)
Nearly a year later, Redbank accomplished that goal as Ty Carrier scattered nine hits over seven innings and the Bulldogs jumped out to a 3-0 lead in the bottom of the first on the way to a 3-1 win over Johnsonburg in the D9 Class 2A semifinals at Showers Field on Thursday afternoon.
"We were so excited on the bus ride home and even in the dugout," Carrier said. "It's a great feeling because they beat us last year and we've been looking forward to this moment for a whole year.
"We set the goal right off the bat that we wanted to beat them," Carrier added. "We set the goal, too, that we wanted to win the district championship."
Redbank did all of its damage in the first inning, scoring three runs off Johnsonburg pitcher Luke Zimmerman.
Tate Minich got it going with a one-out walk. After a fly out, Tyler Hetrick also walked and then Mason Clouse followed with a two-run triple. Carrier helped his own cause by driving in Clouse with a single for a 3-0 lead.
Carrier made that stand.
"It was awesome," Carrier said. "I knew as soon as we had the three-run lead, I was ready to pitch well. That first inning really boosted my confidence."
Carrier gave up just one run on a sacrifice fly by Erik Panebianco in the top of the sixth. He scattered nine hits — all singles — striking out four and walking two to get the win.
Zimmerman only have up one hit after the first and got the tough loss. He went six, striking three and walking three.
Aiden Zimmerman and Kaden Dennis each had two hits for Johnsonburg (13-6).
Redbank Valley (17-4) will take on Karns City at noon on Monday at Showers Field for the District 9 championship.
"I have a buddy there, Jacob Jones. He's my buddy on one of my travel teams," Carrier said. "He's a really good pitcher, so he's gonna be tough to face if he pitches. They have other really good pitchers, too, that we're going to have to come out and face."
KARNS CITY 11, PORT ALLEGANY 0
Look out.
The Gremlins are playing their best baseball at the right time.
After taking care of Coudersport, 10-5, on Tuesday, Karns City came out and blew a 2-0 game wide open with nine in the seventh against the Gators at Brockway to advance to the D9 title game.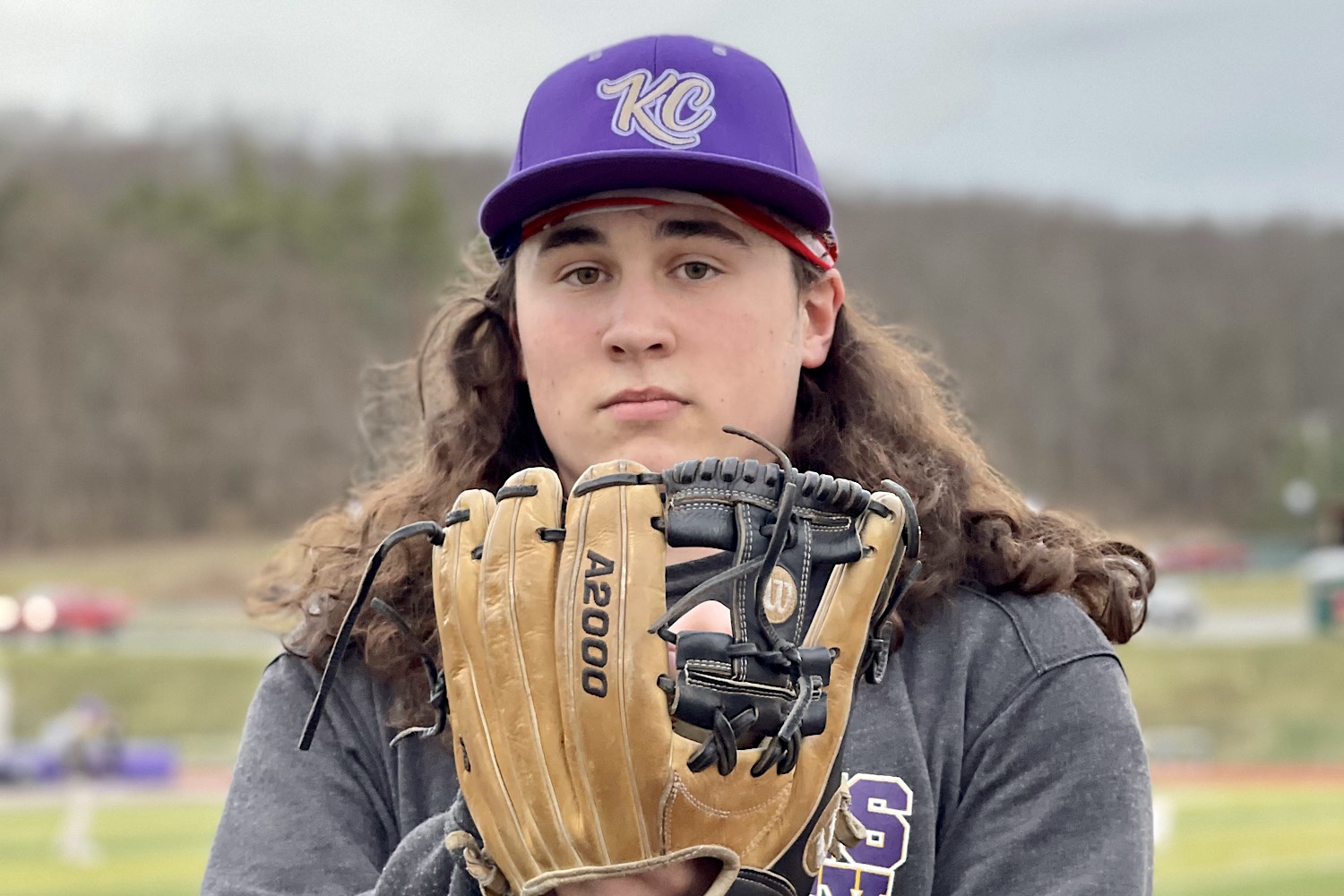 (Mallick Metcalfe)
Two or 11 runs, it did not matter. Not with the way Mallick Metcalfe was pitching for the Gremlins.
Metcalfe was brilliant. He threw 87 pitches and 64 were for strikes. He gave up just three hits, struck out nine and didn't issue a walk over seven innings.
"He pounded the strike zone and made them earn every inch," said Karns City coach Josh "Sluggo" Smith. "No walks, nine strikeouts. That's what you want from your senior leader in the biggest game of the season. He showed up and dominated tonight."
The game was tight until the flood gates opened in the final inning.
Port Allegany starter Drew Evens was matching Metcalfe pitch for pitch for the most part until the disastrous seventh.
Karns City got a run in the top of the first on a RBI single by Braden Grossman then tacked on another un in the top of the sixth on a run-scoring single by Mason Sherwin.
But in the seventh, Metcalfe got the huge rally going with a RBI triple. Troy Nagel then knocked in two with his own triple later in the frame to make it 7-0. Metcalfe drove in two more runs to cap the uprising.
"I mean, he's a devastating hitter," Smith said. "He hardly even strikes out. He has less than 10 strikeouts in three years, which is weird, because he's a free swinger. He puts himself on 0-2 holes, but still finds a way. He's playing his best baseball that I've seen since I've started coaching him."
It's a good time for that with Karns City facing Redbank Valley for the D9 crown on Monday.
The Gremlins (15-6) lost to the Bulldogs 7-0 earlier in the season.
"We left 13 guys on base, had eight errors and lost 7-0," Smith said. "I'm just glad it was early. Not now."
Copyright © 2023 EYT Media Group, Inc. All rights reserved. Any copying, redistribution or retransmission of the contents of this service without the express written consent of EYT Media Group, Inc. is expressly prohibited.