GOLD RUSH: Bliss, Smith, and Chalmers Reflect Upon How One Small Co-op at Union/A-C Valley Did Such Big Things at State Track Meet
Saturday, June 3, 2023 @
12:06 AM
RIMERSBURG, Pa. (EYT/D9) — As Union senior Evie Bliss was throwing the javelin a PIAA Class 2A record 170 feet, 2 inches during the first day of the PIAA Track and Field Championships, Union/A-C Valley teammate and A-C Valley senior Landon Chalmers was watching her out of the corner of his eye from the discus competition at Shippensburg University.
(Pictured above, Union/A-C Valley PIAA track and field gold medalists, from left, Landon Chalmers, Evie Bliss and Hayden Smith)
"I got to see her 170 throw," Chalmers said. "I knew it was out there, but I didn't know how far."
Just a few minutes later, Chalmers spun himself around in the circle and launched his discus 171 feet, 1 inch to put him into first place.
He bettered that effort on his next attempt, throwing 171-5 — good enough to win his own gold.
"Landon was right next to me," Bliss said. "He'd be there watching me, and when he got in the circle, I'd watch him and cheer him on."

Redbank Valley, Keystone, and Union/A-C Valley sports coverage on Explore and D9Sports.com is brought to you by Heeter Lumber.
Meanwhile, over at Set Grove Stadium, their teammate, Union junior Hayden Smith, was competing in the high jump.
By the time Bliss and Chalmers secured their gold medals, Smith was well on the way to his.
In a matter of a few hours, the Union/A-C Valley track and field team had won three state titles.
Not bad for a co-op between two of the smallest schools in the state. Union graduated 37 and A-C Valley 35 this year.
"Looking at all the teams that were there and all the great athletes who were there," Bliss said, "it's amazing to have three of us be able to do something like that."
Bliss, Chalmers, and Smith are close friends, despite coming to the team from very different places. Bliss is homeschooled, Chalmers is from A-C Valley, and Smith from Union.
They probably never would have met without the co-op.
"I'm so grateful for that," Bliss said. "Some of my best friends have been made through track and I think those friendships are gonna last a lot longer than any other because we've been through so many ups and downs with each other, picking each other back up and cheering for each other when we succeed, when we do well and helping each other when we're not doing so well."
"Track brought us together," Smith said.
While Smith and Chalmers celebrated their golds after that first day of competition, Bliss had to participate in another very important event.
The 180-mile dash.
Bliss needed to get from Shippensburg to Rimersburg to attend her high school graduation ceremony at Union. And time was ticking away.
"I figured out the morning of the competition that, if I want to make graduation, I have to be done throwing by three o'clock," Bliss said. "I was panicking the entire way home. I'm texting my friends. Texting the teachers in charge. I was giving them an ETA every half hour.
"I pulled up to the school at 6:29," she added, laughing. "I was walking in for graduation two minutes later."
There was no time for Bliss to change. She threw her white gown over her Union/A-C Valley track and field uniform.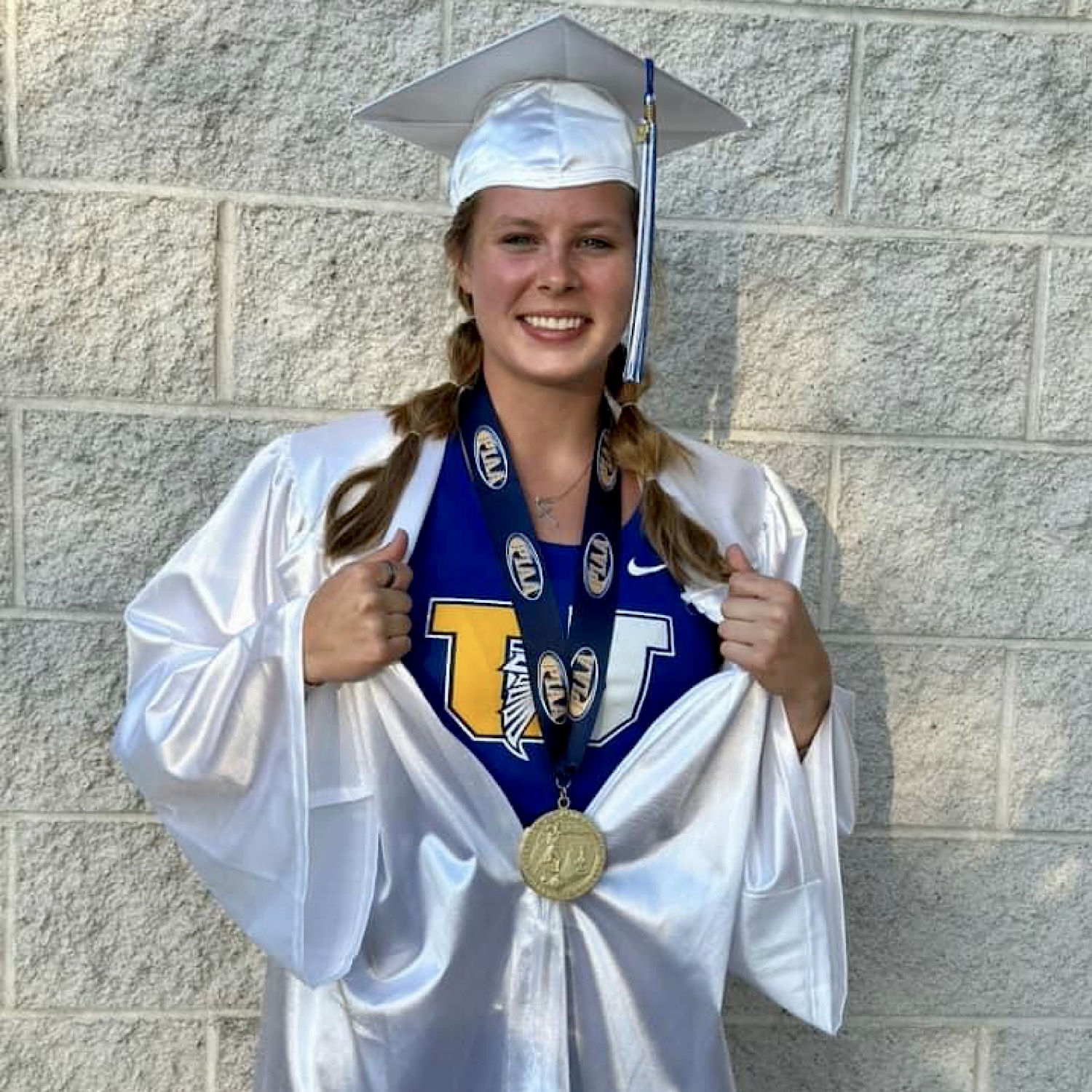 (Evie Bliss shortly after arriving for her graduation just a few hours after winning the state title in the javelin with a PIAA record throw of 170-2)
"I knew there would be no fancying myself up," she said, chuckling again, "so to speak."
Bliss was able to stay in contact with her teammates via FaceTime.
She chatted with the other two gold medalists the next morning.
On Saturday night when the rest of the Union/A-C Valley team returned, she joined them for what turned out to be a welcome home parade through Emlenton, St. Petersburg, Foxburg, and Rimersburg.
"I love everyone," Smith said. "We got so much support from some great people down here and over at A-C."
Bliss was in awe of the support from all the communities that make up the Union and A-C Valley school districts.
"It's something that's really special to have people who are cheering for you and care how you do, even if you don't know them and they don't know you," she said. "It's really something incredible."
Chalmers has a unique perspective on the co-op. He was part of another successful one between Union and A-C Valley on the football field.
That co-op has also thrived.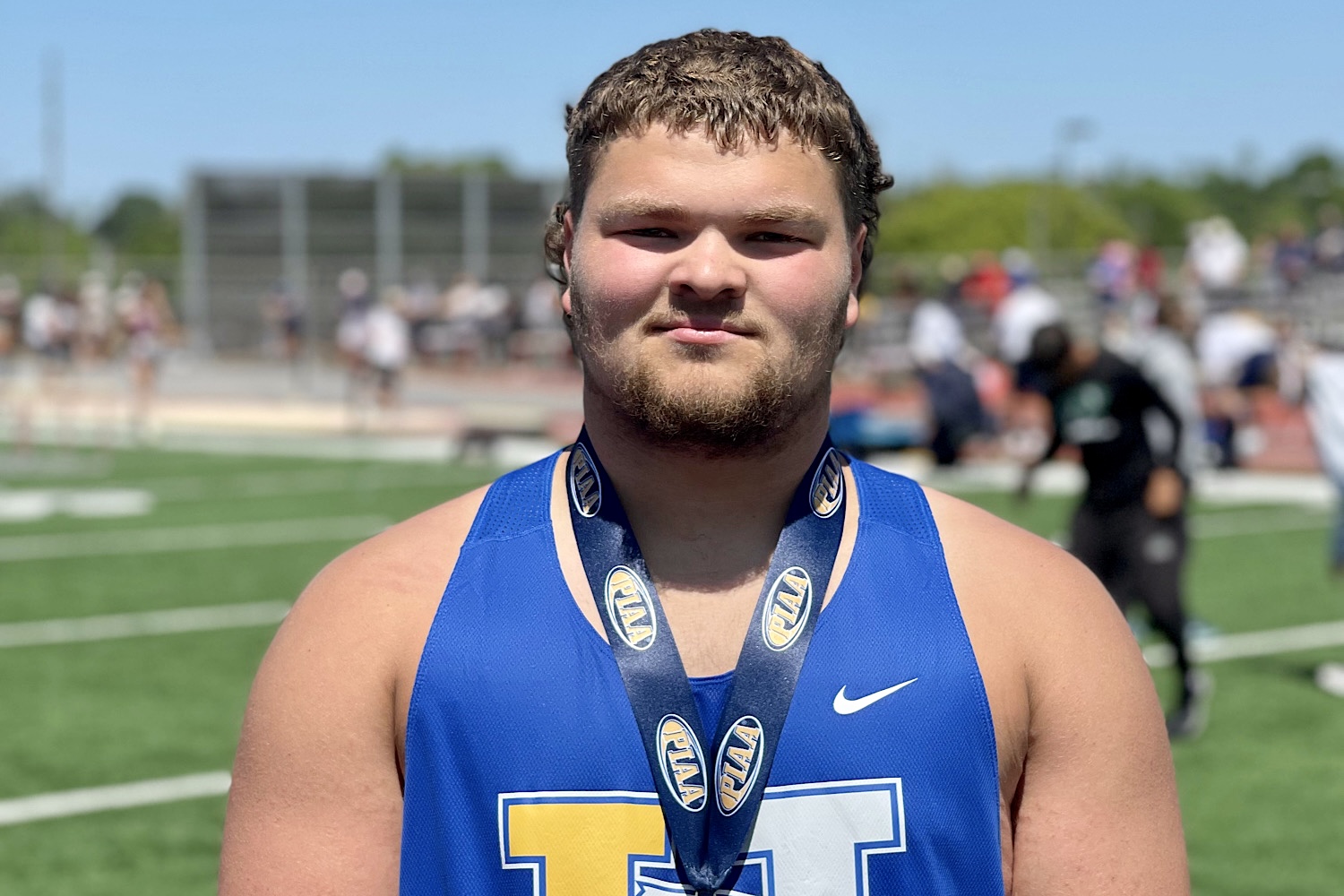 (Chalmers)
"It just really honestly shows what the co-op has brought to both schools," he said. "Years before the co-op in track, maybe each school would send like one person to the state meet. Last year (in the first year), we sent six. This year, we sent nine. It has really just made all the sports that have combined a lot better. We're all kind of a big family now."
Bliss will likely have another big honor to share with her family.
MileSplit, a national track and field website, nominated several athletes for its National Girls Performer of the Week. Bliss was leading by a landslide with 67 percent for the vote just hours before the poll on the site was set to close.
The next closest person to her was at 11 percent.
"I think that's when everything sunk in when I knew I was up for the national athlete of the week," Bliss said. "I was like, 'Oh, wow, I really did something.'"
Bliss is still trying to wrap her head around it all.
She came into the state meet with a best of 155-9. On her first throw, she broke that by more than 15 feet.
Bliss' next throw carried more than 161 feet, proving to her — and everyone else — that she was no fluke.
"That's something that I still kind of ponder. Like, 'How did this happen?'" she said. "That (161-foot throw) was a comfort. I have a bit of imposter syndrome. It wasn't a fluke. I can actually do it."
Bliss and Chalmers will now move on to other things.
Bliss will throw the javelin at Bucknell University next year. Chalmers will play football — and he hopes, throw for the track and field team — at Edinboro University.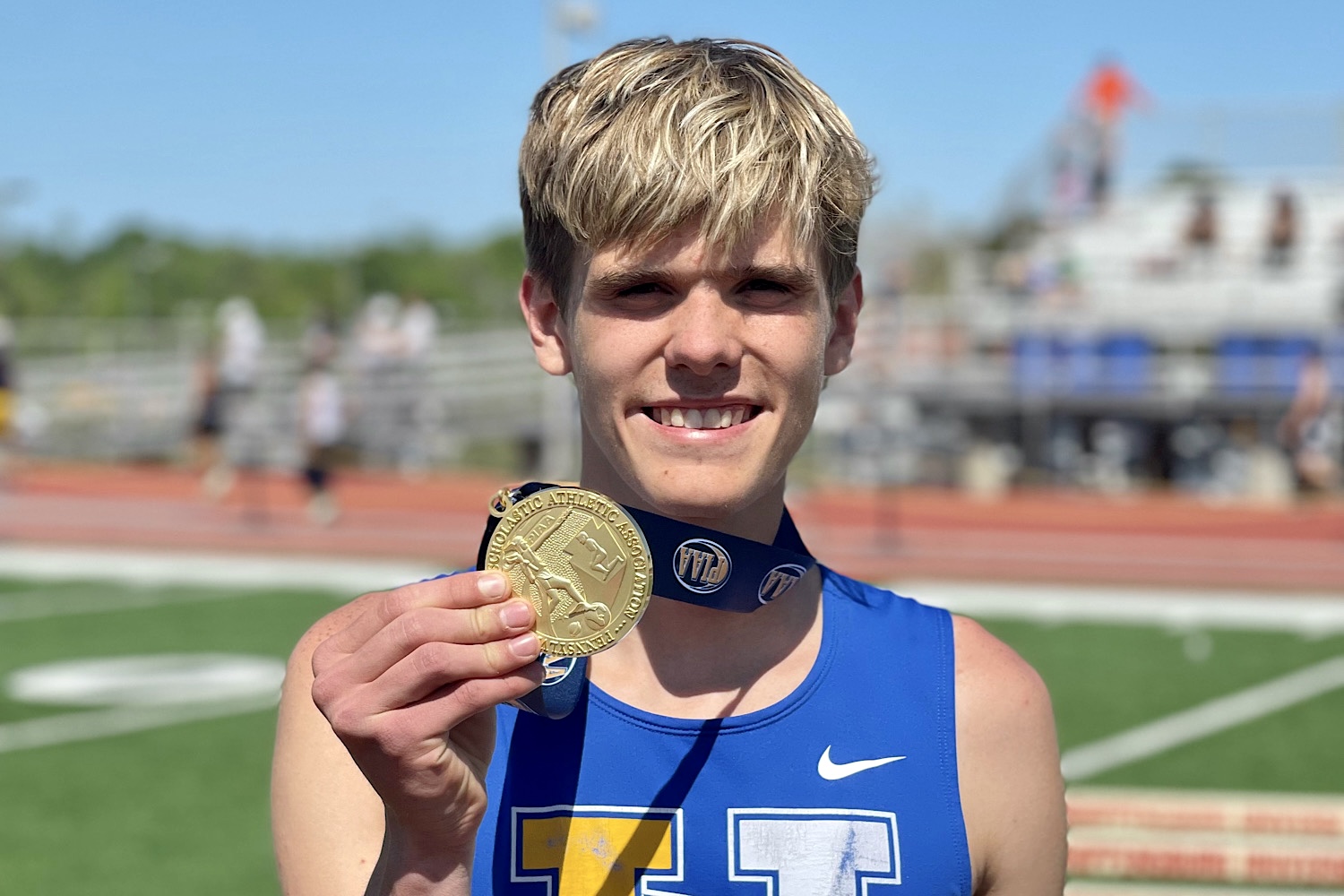 (Smith)
Smith will return for his senior year, hoping to win four consecutive District 9 championships and three straight state titles in the high jump.
"It's a little bittersweet," Bliss said about moving on. "I've made so many good friends who are like family."
"Just so many good memories," Chalmers said. "We were laughing and giggling the whole time. We hung out at the hotel and just had a great time and enjoyed spending time with each other."

Redbank Valley, Keystone, and Union/A-C Valley sports coverage on Explore and D9Sports.com is brought to you by Heeter Lumber.
Copyright © 2023 EYT Media Group, Inc. All rights reserved. Any copying, redistribution or retransmission of the contents of this service without the express written consent of EYT Media Group, Inc. is expressly prohibited.