MORE MADNESS: District 9 Teams Hope to Keep State Title Hopes Alive in Second Round of PIAA Playoffs
Monday, March 13, 2023 @
10:03 PM

CLARION, Pa. (EYT/D9) — Intriguing matchups highlight the second round of the PIAA boys and girls basketball playoffs, which will continue on Tuesday and Wednesday.
(Pictured above, from left, Union's Trey Fleming, Payton Johnston and Hayden Smith walk off the court at Tippin Gymnasium/photo by Nathan Girvan)
The Union boys, fresh off the program's first state playoff win in 49 years, will get a chance to slay a dragon in District 7 champion Imani Christian Academy on Tuesday night at Kiski Area High School in a Class A matchup.
The Golden Knights have been hot over the past month and a half. They pulled off a pair of upsets in the District 9 playoffs to reach the title game against Elk County Catholic, but fell short against the Crusaders. On Friday night, they rolled past Turkeyfoot Valley at home to earn a long-awaited state playoff victory.
Imani has a clear height advantage with 6-foot-11 sophomore Alier Maluk and 6-9 junior Virgil Hall in the middle. Markus Williams is a 6-3 junior guard.
The Redbank Valley girls are also looking to notch another state playoff win on the road to what the Bulldogs hope is a state championship journey in Class 2A when they tangle with Bishop McCort on Tuesday night, also at Kiski.
Bishop McCort has an inside force in 5-foot-11 Bria Bair, who is averaging a double-double.
And the Otto-Eldred boys and girls teams are still alive and trying to make more history.
The Terror boys play Serra Catholic at 5:30 p.m. Wednesday at DuBois in Class 2A before the Otto-Eldred girls — who won their first-ever D9 championship — take the same floor for a clash with Bishop Guilfoyle in a Class A game.
Here's a look at all the state playoff games involving District 9 teams in the second round:
BOYS
CLASS A
WHO: Union (15-12) vs. Imani Christian Academy (19-6)
WHERE: Kiski Area High School
TIP-OFF: 7:30 p.m. Tuesday
HOW THEY GOT HERE: Union beat Turkeyfoot Valley, 64-28; Imani beat Clarion, 78-43
THE SKINNY: Union won its first state playoff game in 49 years with the rout of Turkeyfoot Valley. … Payton Johnston scored 22 points and Zander Laughlin added 20. … The Golden Knights have won seven of nine after losing seven of eight games in January. … Imani cruised to a win over the Bobcats in the first round thanks to 16 first-half points by Dame Givner. … The Saints also got 16 points from Avery Wesley, 14 from Virgil Hall and 13 from AJ Sledge, a transfer from Bishop Canevin. Sledge was originally ruled ineligible by District 7, but the PIAA overruled that decision.
WHO: Cameron County (18-8) vs. Union-New Castle (23-3)
WHERE: Brookville High School
TIP-OFF: 7 p.m. Tuesday
HOW THEY GOT HERE: Cameron County upset Portage, 50-28; Union-New Castle beat Kennedy Catholic, 65-45
THE SKINNY: Cameron County had to wait an extra day to play its first-round state playoff game. It was worth it. The Red Raiders got 15 points from Josh Smith and 14 from Camdyn Allison to pull off the win. … Cameron County outscored Portage, the District 6 champion, 31-7 in the second and third quarters. … Union-New Castle, the District 7 runner-ups, wasted little time in dispatching Kennedy Catholic, leading 37-23 at the half. … Matthew Stanley had a huge night for the Scotties, pouring in 28 points to go with six steals, five rebounds and four assists in the win. … Lucas Stanley added 12.
WHO: Elk County Catholic (26-2) vs. Carlynton (18-7)
WHERE: PennWest Clarion
TIP-OFF: 6 p.m. Tuesday
HOW THEY GOT HERE: Elk County Catholic rolled past Neighborhood Academy, 67-47; Carlynton dispatched Southern Fulton, 63-35
THE SKINNY: The Crusaders are no stranger to state playoff runs — they advanced to the PIAA semifinals a year ago. … ECC used balance to get a first-round win on Friday night. Adam Straub, Wil Wortman and Michael Jacobs each scored 14 points to lead the way. … Austin Milliner scored 25 points for the Cougars in the win over Southern Fulton. … Carlynton outscored the Indians 32-10 in the second quarter to take a 49-19 lead at the half.
CLASS 2A
WHO: Otto-Eldred (24-2) vs. Serra Catholic (16-11)
WHERE: DuBois High School
TIP-OFF: 5:30 p.m. Wednesday
HOW THEY GOT HERE: Otto-Eldred beat Greensburg Central Catholic, 66-54; Serra Catholic beat District 6 champion United, 75-62
THE SKINNY: Landon Francis scored 22 points for the Terrors against GCC. … Otto-Eldred led big early against the Centurions, lost it, then erupted for an 18-1 run to get a state playoff win after losing to ECC in the D9 title game. … Serra Catholic is the seventh-seed out of the WPIAL, but toppled the D6 champion. … The Eagles led by 24 late in the third quarter, but United was able to rally, cutting the lead to nine in the fourth. Serra Catholoc was able to hang on by shooting 8 of 10 from the floor in the final period. … Isiah Petty, who leads the Eagles in scoring at 17.4 per game, put up 19 in the win over United. … Owen Dumbroski and Joe Demoss each added 17. Both are averaging 14 points per game this season for Serra Catholic.
CLASS 3A
WHO: Brookville (23-2) vs. Neshannock (19-7)
WHERE: PennWest Clarion
TIP-OFF: 7:30 p.m. Wednesday
HOW THEY GOT HERE: Brookville beat Seton LaSalle, 46-43 in OT; Neshannock stunned Oil City, 61-59
THE SKINNY: Clayton Cook certainly has the flare for the dramatic. The Brookville star's deep 3-pointer at the buzzer in overtime sent the Raiders to the next round. … Cook scored 17 points in the win. … Neshannock also had a game full of drama against Oil City. … The Lancers rallied from 44-29 down in the third and an 11-point deficit in the fourth quarter to move on. … Senior point guard Jack Glies scored 33 points to lead the Lancers. … Neshannock had lost two in a row heading into the first round of the state playoffs. … Neshannock and Brookville met in a PIAA first-round game in 2020 with the Raiders winning 49-34. A week later, the rest of the state playoffs were canceled because of the COVID pandemic.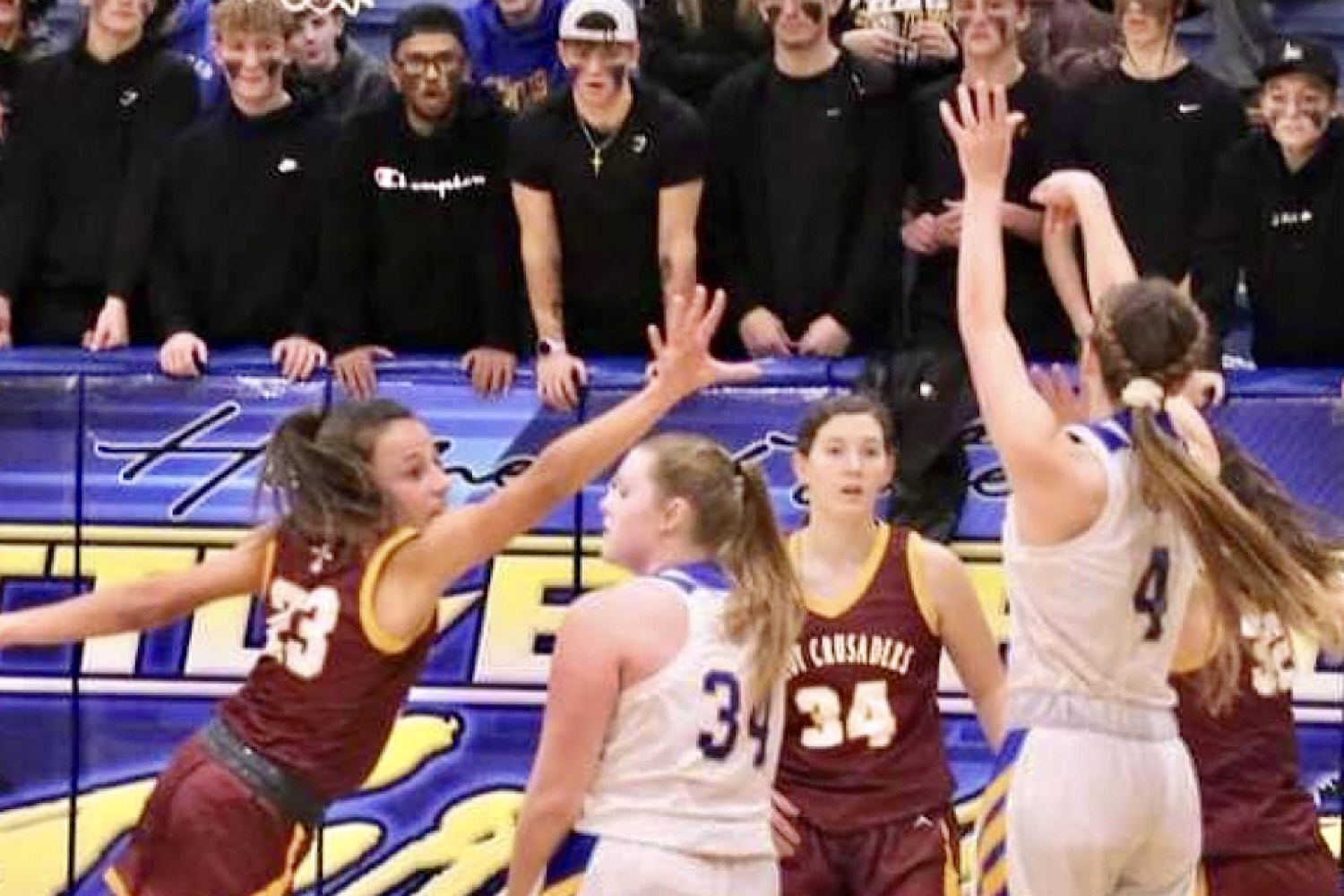 (Katie Sheeler, No. 4, takes a shot against Elk County Catholic in the District 9 Class A title game/photo by Barb Close)
GIRLS
CLASS A
WHO: Elk County Catholic (24-4) vs. Union-New Castle (19-6)
WHERE: PennWest Clarion
TIP-OFF: 6 p.m. Wednesday
HOW THEY GOT HERE: Elk County Catholic beat Northern Bedford, 50-27; Union-New Castle cruised past Clarion, 47-9
THE SKINNY: The Crusaders pulled away in the second half to advance. … Sami Straub scored 14 points and Tori Newton chipped in 13 for ECC, which led 22-14 at the half, but outscored Northern Bedford 28-13 over the final two quarters. … Meanwhile Union-New Castle showed why it is the District 7 champ, holding Clarion to just nine points — two in the second half. … Kylie Fruehstorfer scored 22 points and Kelly Cleaver added 13 for the Scotties. … Union has won 13 games in a row with an average victory of 53-25 over that span.
WHO: Otto-Eldred (24-2) vs. Bishop Guilfoyle (15-11)
WHERE: DuBois High School
TIP-OFF: 7 p.m. Wednesday
HOW THEY GOT HERE: Otto-Eldred beat Monessen, 57-30; Bishop Guilfoyle beat Bishop Canevin, 56-43
THE SKINNY: Katie Sheeler has been on a tear for Otto-Eldred all season, but lately in particular. The senior, who became the all-time leading scorer for the Terrors this season, scored 30 more points in the win over Monessen. … She's averaging 22.3 ppg this season, but 26 over her last six games, including four games of 30 or more points. … Bishop Guilfoyle starts three freshmen. … Two of those freshmen, Alana Lightner and Lauren Himes, each scored 12 points in the win over Bishop Canevin. Sarah Geishauser, a junior, led the Marauders with 22 points.
WHO: DuBois Central Catholic (15-12) vs. Williamsburg (27-1)
WHERE: Bald Eagle High School
TIP-OFF: 7 p.m. Wednesday
HOW THEY GOT HERE: DuBois Central Catholic beat Jamestown, 64-21; Williamsburg rolled past St. Joseph, 86-40
THE SKINNY: The Cardinals had little trouble against 5-18 Jamestown, earning their first state playoff win since 1999. … Marina Hanes scored 16 points and Faith Jacob added 15 points in the DCC win. … Williamsburg, the District 6 champs, have been a juggernaut this season, averaging 62.2 points per game while only giving up 33.3. … Ayla Hileman leads the Blue Pirates at 20 points per game. Jayla Woodruff, a senior, is averaging 13.4 points and 9.4 rebounds per night. … Hileman, a junior point guard, is also pitching in 5.2 boards, 3.5 steals and 3.2 assists.
CLASS 2A
WHO: Redbank Valley (26-1) vs. Bishop McCort (15-13)
WHERE: Kiski Area High School
TIP-OFF: 6 p.m. Tuesday
HOW THEY GOT HERE: Redbank beat Serra Catholic 63-36; Bishop McCort edged Freedom, 64-58 in overtime
THE SKINNY: Redbank is rolling behind a deep and talented roster. … Sophomore point guard Mylee Harmon scored 22 points in the win over Serra Catholic and is averaging that number per game. … Senior Alivia Huffman has also been a handful for the Bulldogs and added 12 points and 11 boards against Serra. … Caylen Rearick rounds out the big three for RV. She scored 14 in the first-round playoff win. … The Bulldogs also have a strong bench that is averaging nearly 17 ppg. … Bishop McCort went 8 of 9 from the foul line in OT to advance to the second round. … Gianna Gallucci scored 23 points to go with eight rebounds and four steals for the Crushers, while Cami Beppler added 22 points and Bria Bair 13 points and 12 boards. … Gallucci leads the team this season at 16.9 ppg. … Bair, a 5-11 senior, has been a beast, putting up 16.2 points and 12.9 rebounds per night.
Copyright © 2023 EYT Media Group, Inc. All rights reserved. Any copying, redistribution or retransmission of the contents of this service without the express written consent of EYT Media Group, Inc. is expressly prohibited.